"I inspire you to hang out in malls? That's interesting."
- Sufjan Stevens, 2009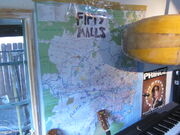 Fifty Malls is an ongoing project to record fifty albums about fifty Sydney shopping centres. As of July 2013, eight have been released.
Albums in the series to date
[
]
Planned future releases
[
]
Feel free to add your own ideas and suggestions.
Chatswood Westfield
Gladesville Shopping Village
West Ryde Marketplace'
It Happened at the Raindrop Fountain (Roselands)
Broadway
Rhodes
Liverpool Westfields
Bass Hill Plaza
Chester Square
Southgate Sylvania
Parramatta Westfield