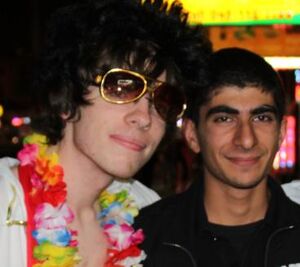 Elvis Presley was a very good singer that continues to influence my life in many and often unusual ways. While I think it's important to note that he was not a songwriter, he brought a jawdropping charisma to everything he sang that I find very inspiring. He has taught me a lot about proper singing and powerful stage presence. I am working on a tribute album to him that will be simply called Elvis.
How you should get into Elvis
Edit
Listen to The Sun Sessions - The first songs he ever recorded and the best. Elvis is 19, fresh out of high school and just bursting with energy. It's so exciting to hear him sing "Well I heard the news, there's good rockin' tonight!" that you really believe there is a killer party going on in a barn somewhere and you better get there quick. These songs recorded at Sun Studios were released as a series of singles in the 50s and later compiled into one album in 1976. They have been justly described as "the essential recordings of rock'n'roll".
Listen to Elvis Presley - His self-titled 1956 debut album is an all-killer statement of what the man's all about. It takes mere seconds for this album to grab hold of you in what I consider to be the best opening of any album I've heard: "Well it's a one for the money...". Album one, side one, track one, five seconds in, and you're instantly hooked.
Watch the 68 Comeback Special - Elvis made a lot of movies from the late 50s through most of the 1960's. Jailhouse Rock and King Creole are very good and maybe even classics. The other 28 had mixed results, sometimes fun but mostly bad/boring. None of that matters for now. You're getting into Elvis and you need to watch the 68 Comeback Special, his glorious return to live performances after ten years locked away in Hollywood. He's been positively itching to be the bloke we met in his early recordings again and it shows. For this NBC TV special, Elvis called up his old muso mates from the Sun days to form a stripped-back band of raw guitars, tamborines and a guy drumming the back of a guitar. He sits in a circle with them in front of a small crowd and sings the classics as raucous as ever. At the finale he sings "If I Can Dream", a truly epic song about spiritual redemption that I live my life by. Here is a man who has found himself again and it's a beautiful thing to watch.
Watch That's the Way It Is - In 1969, Elvis booked in for a series of concerts at the Hilton Hotel in Las Vegas. Cameras were rolling during every day of rehearsal and at all the shows. The filmmakers also thought out of the box enough to interview the guy that operates the forklift to take Elvis records off the back of the RCA truck and film the roast beef being prepared in the Hilton kitchen. That's the Way It Is is an remarkably original and engaging documentary that shows Elvis' 70s concerts at their best. Make sure you see the original theatrical cut. The 2001 re-edit removes a lot of interesting footage for the sake of more performances; it is still very good but not as insightful.
Three essential songs
Edit
Three underrated songs
Edit