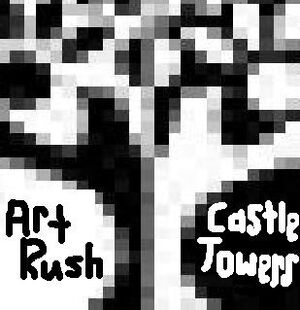 Castle Towers is my fifth album and the second in the Fifty Malls series. It was released in mid-2008. The album is about a relationship between Michael and Chloe, a fictional couple who work together at the Cafe Casba in the Castle Towers centre. Michael is dark and broody with pessimistic tendencies and Chloe is upbeat, quirky and optimistic almost to a fault. As the album progresses it is revealed that Chloe was born Michael's biological brother but was anonymously adopted out into another family then had a sex change later in life. They are brothers in what seems to be an ordinary heterosexual relationship and neither of them knows.
"Coming back (Chloe's memories)" (1:23)
"The Reasons I've Decided to Die (Michael's thoughts)" (4:14)
"Chubby Blonde Boy (Chloe's thoughts)" (3:42)
"Reflection of the Restaurants (Michael's thoughts)"
"Autopilot Boy (Tear Off the Roof) (Chloe sings to Michael)" (3:21)
"She's like that to everyone (Michael's memories)" (2:10)
"Coffee beans (Food Court Waltz) (Chloe sings to Michael)" (3:24)
"Babies in the Library (A third-party observation)" (3:46)
"Calling Card (Duet)" (3:07)
"If you were different (Michael sings to Chloe)" (3:03)
Community content is available under
CC-BY-SA
unless otherwise noted.